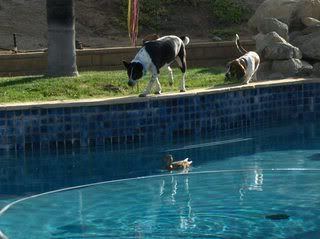 I know Spring is here when the ducks return to my pool. 6:30 this morning this lady duck was quacking her fool head off. No male duck as of yet...he probably didn't ask for directions and is still wandering. Love the way that Suki appears to have a Mini Me..her and Cookie's color patterns and stance are identical!
Ran a tennis tournament is Vista yesterday, and am happy to say everything ran quite smoothly. The weather was perfect, the facility was beautiful, and a good time was had by all. My feet and legs are very sore.....Up and down, back and forth all day long. I left my house at 9 am and didn't get back until 9:30 pm. Okay, so there was a little break for Famous Dave's BBQ with my daughter in there....
The mattress....WOW. It is amazingly comfortable! I'm getting some real solid sleep now. I should have replaced my waterbed years ago. There is one thing though...when I first placed it in the frame, the mattress was level with the frame. 3 days later, it is a good 3 inches above the frame. Surely it's done expanding??? Thank goodness it's stopped hissing....